Previous Attractions
at
Dorney Park and Wildwater Kingdom
Allentown, PA
Click here to return to the Dorney Park Page at RideZone
---
News! For 2004, Hercules has been removed.
News! For 2002, the Tilt-A-Whirl has been replaced with a brand new one.
News! For 2001, the Paratrooper has been removed.
News! For 1999, the Skyride has been removed.



The park as shown above in 1988 still had the Flying Dutchman, Rockets, Lusse Auto Scooters, Coaster station and the parking tower.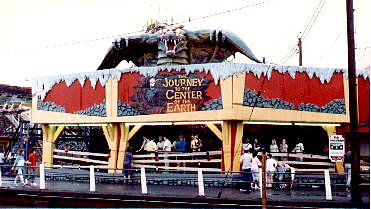 The Journey to the Center of the Earth was the last operating PTC Mill Chute ride in the US and the second to last Mill Chute (there is still one left in Georgia). "The Journey" was built by the Philadelphia Toboggan Company (PTC).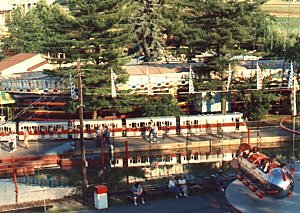 This view shows the Indy 500 building, the Rockets and the Train when it was silver & red.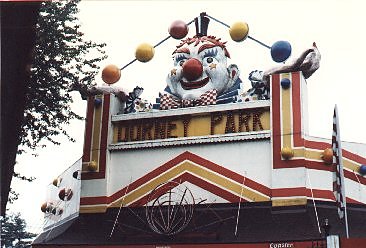 Alfundo the clown greeted visitors as they entered Dorney Park. This large happy face sat above the old Coaster/Scooter building at the lower entrance.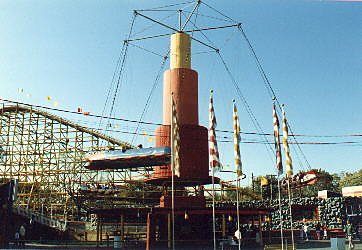 This is the Traver Rocket (circle swing) ride that operated at the park. It was located just to the left of the old Journey to the Center of the Earth entrance, near where the scrambler is now. This was likely the last operating Traver Circle Swing / Rocket ride in North America (although several are in storage).
The Iceberg was patented as a sign at the entrance pointed out. It was a large, four wheel PTC cuddle up ride that was operated in the dark with music and special effects lighting. Originally, the ride had very good air conditioning.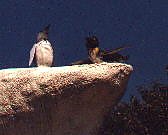 The penguins below sat on the end of the building. Again, this was the last ride of this type (older large style with open gears) to operate in North America.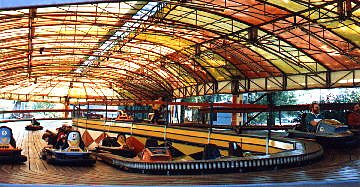 The Indy 500 was an electric powered race track. The ride sat just along the original Dorney Park Road that once ran through the park. The roof was made of fiberglass. The cars raced clockwise.
© 1987-2004 Joel W Styer. All rights reserved. Updated Tuesday, September 14, 2004
RideZone is not affiliated in any way with this Amusement Park