The Flying Coaster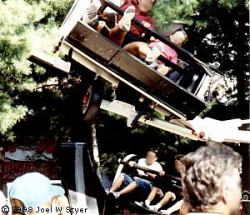 The flying coaster is a unique ride which most people are familiar with. I have some conflicting information regarding manufacturer at the moment by hopefully I will remedy that soon. The only known ride left is listed below.
Basically, the ride follows a circular pattern, similar to a Tumble Bug except there is one ramp which the car flies off of into the air. A shock absorbing system allow the car to land softly and spin around for another "launch". A single car holds up to 4 people.
The photo shows the "launch" on the Kangaroo at Kennywood Park. Notice how the car is well above the ramp height.
Operating Flying Coasters
Kangaroo
Kennywood Park
Pittsburgh, PA
© 1999 Joel W Styer. All rights reserved. Updated Tuesday, January 13, 2004
RideZone is not affiliated in any way with the above Amusement Parks or manufacturers