It is not too often that I am truly impressed by a first visit to an amusement park . Sure, certain rides may impress me or the way a park is managed, etc. But it was pretty much everything here that impressed me. All the rides appeared in excellent condition and everything appeared like it was new, recently painted or cleaned. The grounds were well kept with barely any trash around. The operators and staff were very courteous and friendly. At the park office they were more than happy to discuss the park and provide me with it's history.
The cost is quite affordable for both the rides and the food, something that surprises out of town guests from the metropolitan areas.
Another visit in 1999 proved to be the same, a clean and wonderful place.

DelGrosso's Amusement Park is located just off I-99 (previously route 220) in Tipton, PA which is north of Altoona
Parking is free.

DelGrosso's Amusement Park
PO Box 335
Tipton, PA 16684-0335
814-684-3538
Fax 814-684-9820

2004 - DelGrossos has added a Reverchon Crazy Mouse spinning coaster which replaced the Zyklon. Also new is a Moser Free Fall ride and a Wacky Worm kiddie coaster.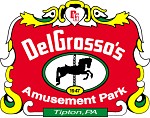 2001. Bland's Park has changed it's name to DelGrosso Amusement Park, the same name of the family that has lovingly cared for it for over half a century.

DelGrosso's has a very nice (and growing) assortment of rides and attractions. Highlights would be the Crazy Mouse roller coaster which provides spinning surprises at key points during the ride. The park also has one of the few Caterpillar rides left in the US which is operated indoors as the Space Odyssey. All the rides appear in excellent condition and all had an almost new look during my visit (1999). See the Picture Gallery section below for photographs.

While the park looks almost new, it actually dates back to just after the turn of the century. At first a carnival operated on the property but by 1919 it had become a park. The Bland family sold the park in 1928 to George Rinard who added more rides, a skating rink and a bowling alley. In 1946, the park was bought by the DelGrosso family who still own and care for it. They have continuously improved and added rides to the park and brought it up to the quality it is at today. In 2001, they changed the name from Bland's Park to DelGrosso's Amusement Park. Season passes were also offered for the first time in 2001.

There are numerous food outlets at the park. During my visit, the food was quite affordable and good. The burger was even hot and the soda was not full of ice.

Click here For photographs of the park and many of it's rides including:
Park grounds
Tipton Waterworks
Space Odyssey (Caterpillar)
Train
Ferris Wheel
Kiddie Rides
and many more