Williams Grove Amusement Park
Williams Grove (Mechanicsburg), PA
RideZone is not affiliated in any way with this Amusement Park
Williams Grove is closed.
Sadly, Williams Grove has been auctioned off in September of 2007.
Thank you Mr. and Mrs. Hughes for all the years of fun.
Williams Grove will be missed. A lot.
.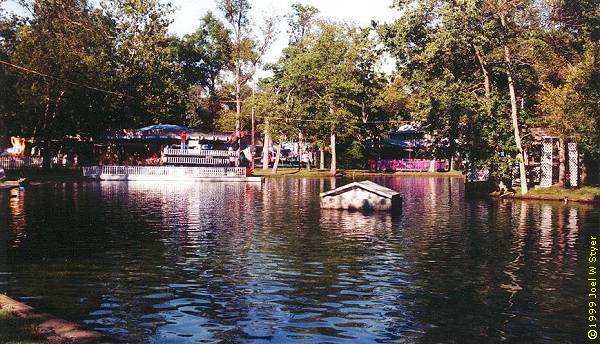 The lake at Williams Grove Amusement Park
Williams Grove was a nice shady traditional park off the beaten path. It had a general admission price to enter or a pay-one-price plan. Tickets were available if you use the general admission.

The park had shaded picnic areas where you can bring your own food and relax. This is a place with a considerable number of trees and plenty of shade on those hot days. They also hosted many company picnics during the summer. At the entrance to the park were some old steam locomotives and rolling stock.

Williams Grove had free parking for park guests. The park was closed Mondays except on holidays.

Click here For photographs of the park and many of it's rides including:

Cyclone - wooden coaster
Dante's Inferno - dark ride
Allotria - funhouse
Carousel
The O & B - train
Twister
Musik Express
Bumper Cars
Midway
Water Slides
Kiddie Rides
and more
© 1995-2013 Joel W Styer. All rights reserved.
RideZone is not affiliated in any way with the Amusement Parks listed at this site
Please do not use any photos, images or content without permission.