Right: car number 4 is restored and ready to go for a ride.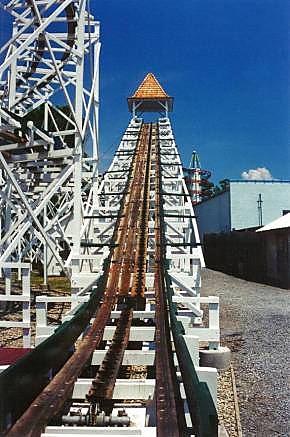 Above: A quiet lift hill awaits the first ride. Note that the cars travel on wood, not steel rails for most of the ride.
Right: Car storage area and transfer table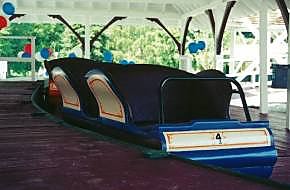 Leap-The-Dips is the worlds oldest standing roller coaster, being built in 1902. Located at Lakemont Park in Lakemont (Altoona), PA, the ride has stood idle for fourteen years. It has been fully rebuilt for the 1999 operating season. Leap-The-Dips is the only "side friction" roller coaster left in North America.
The ride is very gentle, with only small drops (dips of which the largest is nine feet), averaging about 10 MPH. Currently, the cars are running on Oak boards, as they did during it's initial years. The only metal "rails" are located in the station.
The ride is pretty much as I remember it from 1984 but smoother and of course in much better condition. It is probably quieter too since the wheels are running on wood instead of steel.

Leap-The-Dips was designed and built in 1902 by Edward Joy Morris. The ride is 1452 feet long and 41 feet high.

Lakemont Park page at RideZone

Leap-The-Dips Preservation Foundation
Donations can be sent to:
Leap-The-Dips Preservation Foundation
700 Park Avenue Altoona PA 16602
(814) 949-7275 Fax: (814) 949-9207
See here for donation details

Leap-The-Dips is at Lakemont Park which is located at:
Lakemont Park
700 Park Avenue
Altoona, PA 16602
814-949-7275
FAX (814) 949-9207

All photos are copyright Joel W Styer and were taken May 31, 1999, the day of the grand re-opening.