January 18, 2004 Dorney Park and Wildwater Kingdom have removed Hercules, their large wood coaster built in 1989 to make room for a new 2005 attraction.

January 18, 2004 Hersheypark is constructing a large vertical launched coaster by Intamin AG. Riders should be launched up to 72MPH in two seconds. 2004 opening.

January 18, 2004 New Jersey coaster enthusiasts get a surprise as Clementon Amusement Park builds a fairly large wood coaster for the 2004 season. The ride is designed and built by S&S Power.

January 18, 2004 DelGrosso's Amusement Park is putting in a new Crazy Mouse for the 2004 season.

January 18, 2004 Kennywood Park has changed the theme of the Old Mill attraction. For 2004, it will become Garfield's Nightmare.

March 5, 2001 Idora Park Ballroom burns. The huge Ballroom at Idora Park, one of the few structures left, burned to the ground.

Conneaut Lake Park has new web site. The Meadville, PA Park now has an official web site located at www.conneautlakepark.com

Sunday November 19, 2000 - After years of neglect, the famed Thunderbolt roller coaster (1924-2000) at Coney Island (NY) has been removed. An unstable structure was cited as the reason. The house under the coaster, used in Woody Allen's movie "Annie Hall", was also removed.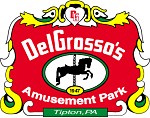 Wednesday November 1, 2000 - Bland's Amusement Park (Tipton, PA) has announced their name will be changed to DelGrosso's Amusement Park. The seven DelGrosso children announced the change as a lasting tribute to their parents, who spent much of their lives making Bland's Park into the wonderful place it is today. The DelGrosso family is also well known for their spaghetti sauce and the change helps build brand identity with the park. Co-marketing projects between the park and the spaghetti sauce are now possible. Specially marked jars of DelGrosso Spaghetti Sauce will carry coupons for up to $4.00 off the purchase price of any pass at DelGrosso's Amusement Park and will be valid Tuesday through Friday all summer long.
But that is not the only good news. For the first time, Season Passes will be offered (beginning Nov 10, 2000) for unlimited Waterworks, Tipton Rapids and Rides and will be good any day the park is open for the season. The passes will be $59.95 and be sold at Giant Eagle Stores (in Altoona, Roaring Spring and Ebensburg) or at the DelGrosso's Amusement Park office. You can also call toll free at 1-866-684-3538 to order.
To celebrate the new name, there will also be two new rides for 2001. A Sea Dragon (pendulum boat ride) will swing 40 riders at a time while the Balloon Race will simulate a miniature hot air balloon ride. DelGrosso's Amusement Park opens for the season on May 6, 2001. RideZone has always been impressed with the park and we see an even brighter future with the new name. Congratulations to the DelGrosso family. See the DelGrosso Amusement Park pages at RideZone or their new website at www.delgrossos.com (to be active after Nov, 10, 2000).
New logo (shown above) is courtesy of DelGrosso's Amusement Park and is used with permission.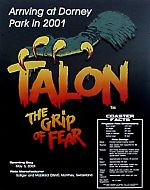 Tuesday, August 29, 2000 - Dorney Park and Wildwater Kingdom have announced the name of their new inverted coaster for 2001. Talon will be the name of the new 135 foot ride. The ride will cover the 3100 feet of track at up to 58 miles per hour. It is to be built by Bolliger and Mabillard (B&M) of Monthey, Switzerland.
The ride will be positioned in an area between the amusement park and water park. This is the clearing where the train runs near the top of the park. Construction will start after Labor Day.
RideZone will have more news about the ride as it becomes available. Click here for more about Talon
Talon sign graphic courtesy of Mark Sosnowsky of Dorney Park and Wildwater Kingdom and Carl Hittner. Used with permission.
Thursday, August 10, 2000 Kennywood Park has announced that Phantom's Revenge will replace the Steel Phantom. Portions of the original Arrow ride will be used in the creation of the new ride. The changes will be handled by Morgan Manufacturing More information is at the parks website
Monday, march 6, 2000 - Kennywood Park (West Mifflin, PA) has announced they will remove the Steel Phantom (Arrow, 1991) roller coaster after the 2000 season. It will be replaced by another coaster for 2001. The Steel Phantom has been recognized as the fastest coaster in the US but will lose that title this coming season to rival Cedar Point's Millenium Force coaster. More information as it becomes available.
Monday, October 11, 1999 - Conneaut Lake Park (Conneaut Lake, PA) is going ahead with plans for a historical section within the park and is interested in Idora Park items for their museum. Idora Park Development Company is no longer involved with Conneaut Lake Park. They still plan to rebuild the Jack Rabbit and possibly the Wildcat. Thanks Kelly.
Monday, October 11, 1999 - Construction should begin today on the improvements at Dorney Park and Wildwater Kingdom for the 2000 season. The park will be adding a Mauer Sohne Wild Mouse, a Camp Snoopy area for kids and more. The relatively new midway at the entrance will be completed as well along with many smaller changes within the park. The Monster ride, which sat out last season to make room for Dominator, will be back in a new location.
Tuesday, August 17,1999 - After months of rumors and speculation, Hersheypark announced today their new double track coaster will be called the Lightning Racer. The ride is billed as the first racing/dueling coaster in the US. Built by Great Coasters International (GCI), the two and one third minute ride will have a 90 foot lift hill and a track length of 3400 feet with speeds in excess of 51mph. It will also have 24 passenger GCI Millenium Flyer trains. The Lightning Racer joins the park's seven other coasters, more than any other park in PA.
Saturday, August 14, 1999 Seems there is a massive amount of wood growing at Hersheypark (Hershey, PA). There are little flags and new footers behind the Ferris Wheel.
Saturday, July 24, 1999 - Knoebel's Twister (their new wooden coaster) opens to the public and the American Coaster Enthusiasts who arrived later in the day. Knoebel's have another hit on their hands and a great ride to complement the always fun Phoenix. More information here at RideZone
Monday, May 31, 1999 - Leap-The-Dips, the world's oldest surviving roller coaster at Lakemont Park (Altoona, PA) reopens after 14 years of not operating. Photos of Reopening here at RideZone
Monday, March 5, 1999 - About a month ago, operation of Conneaut Lake Park (Conneaut Lake, PA) was taken over by a group from Ohio. They have plans to move or rebuild the Idora Park Jack Rabbit at Conneaut Lake Park and possibly the Wildcat too. The Idora Park Development Company, is currently looking for Idora Park items to display at Conneaut Lake in a historical area.
Friday, March 12, 1999 - Williams Grove Park (Mechanicsburg, PA) has a new web site. Check it out at www.williamsgrovepark.com
Saturday, December 12,1998 - Knoebel's Twister is rising! For more information check the Knoebels website at www.knoebels.com or see the following site for detailed photographs of the rides construction: http://members.aol.com/RobbRipken/knoebel.html
Saturday, October 10, 1998 - At the annual Knoebel's Phall Phunphest, Dick Knoebel of Knoebel's Amusement Resort announced to coaster enthusiasts that they will be building another major wooden roller coaster for the 1999 season if all the approvals go through. He said the ride would be designed "in-house" by the Knoebel's staff. He also stated that the ride will not use Morgan trains. No location or size of the coaster was given.
Friday, October 9, 1998 - There was a fire at the Le Cachot dark ride at Kennywood Park in West Mifflin, PA. The ride was in the process of being removed at the time the the blaze occurred. The fire did little damage. This was one of only six traditional dark rides remaining in Pennsylvania and one of the few remaining Pretzel rides. Le Cachot featured the creative work of dark ride legend Bill Tracy.